First comes Love,
Then comes Marriage,
Then comes Junior in a Baby Carriage!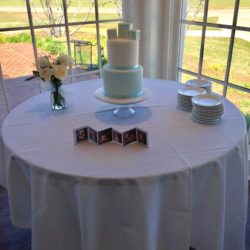 After a wedding the next biggest expensive party is a baby shower. While baby showers aren't nearly as elaborate as weddings (or most aren't) they are still something that can either the parents-to-be or the person hosting will need to make sure they have enough funds for. The baby shower in the cost break down below would be considered a very nice baby shower with a plated lunch and a custom cake & cookies. This baby shower was also held at a low key Country Club. The over feel of the very nice baby shower is more in line as a low key Kardashian Baby Shower.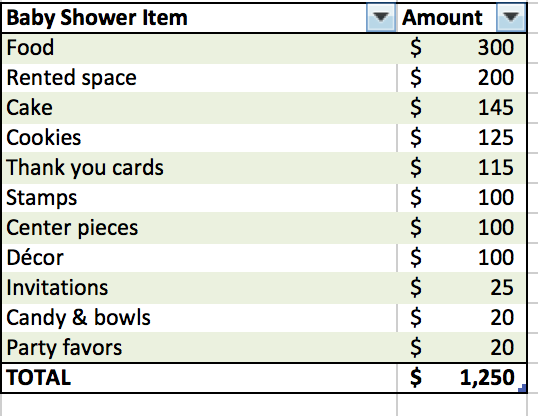 Top 4 expensive items:
1) Food for this baby shower was the most expensive item at $13/person and for 18 people plus 7% tax and around 20% gratuity, this came out to $300. The $13/ person included chicken, roasted potatoes with rosemary, and French green beans.
2) Rented space was $200 plus the venue was the only place that could provide the food for lunch.
3) Cake & Cookies together this was $170. They were custom made with the baby's initials on the cake, and it all tasted delicious!
4) Thank you cards were super expensive at $115. These thank you notes had real foil on them.
To make this baby shower cheaper:
1) Have it at a friend's home  – This would be saving $200. If a friend has a great entertaining house, it could be the perfect spot. If you are going for a Kardashian look you will want to make sure that the house has an over all vibe that you are looking for. And that there is plenty of seating!
2) Make the food – This would be at least a $200 savings. You could make little cucumber sandwiches and small finger foods.
3) Make the cake & cookies – This would around a $250 savings. Getting a cake & cookie mix with some icing would be a lot cheaper. Don't forget to look on Pinterest for some adorable ideas!
4) Buy cheaper thank you cards. These thank you cards were a definite splurge, and you could make some on Amazon Prints for much cheaper.
Overall, a baby shower is a fabulous celebration of a new life with friends & family. It doesn't matter what it looks like & it doesn't have to be perfect 🙂